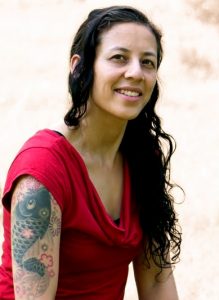 © Coen Beijer

Judy Koot is a multidisciplinary artist and teacher based in the Netherlands.
She works as a writer, illustrator and musician, and teaches all three disciplines.
Judy has been drawing since she was two, studied Illustrative Design at the HKU University of the Arts Utrecht, and interned as a writer, poet and illustrator at renowned Dutch children's book publisher Ploegsma in Amsterdam.
She became a creative entrepreneur at the age of 24.
As an illustrative artist, she loves to experiment and bring her ideas to life in a variety of ways, always pushing herself further.
Her work ranges from serious to whimsical, oftentimes featuring dreamy characters, inspirational texts and colorful palettes.
As a knowledge-nerd, she loves to study, visit museums, and take a broad variety of illustration and design classes on a regular basis.
She also likes to share her own knowledge, by teaching online drawing classes on creative learning platform Skillshare.